New Delhi [India], August 20 (ANI): Congress Parliamentary Party (CPP) chairperson Sonia Gandhi paid floral tribute to former Prime Minister Rajiv Gandhi on his 79th birth anniversary at 'Veer Bhumi' here in the national capital on Sunday. 
Congress General Secretary Priyanka Gandhi Vadra, Robert Vadra and Congress National President Mallikarjun Kharge, who arrived soon after Sonia Gandhi, also paid homage to the former Prime Minister at his memorial this morning.


Party leaders and workers also paid tribute to Rajiv Gandhi outside Veer Bhumi earlier today.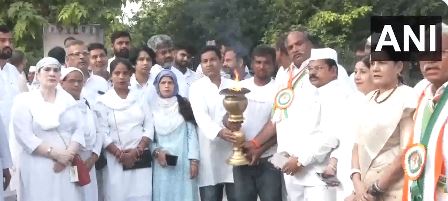 Congress leader Rahul Gandhi who is on a four-day tour to Ladakh remembered his father and former Prime Minister Rajiv Gandhi. "Papa, the dreams you had for India are shown from these priceless memories. Your mark is my way – understanding the struggles and dreams of every Indian, listening to the voice of Mother India," he said in a post on 'X' formally Twitter.
A prayer meeting is being held at the banks of Pangong Lake to mark the 79th birth anniversary of former prime minister Rajiv Gandhi today. 
Earlier yesterday Congress leader Rahul Gandhi embarked on a bike ride to Pangong Lake in Ladakh to celebrate his father and former Prime Minister Rajiv Gandhi's birthday on August 20.
Taking to the social media platform, Instagram, Rahul Gandhi wrote, "On our way to Pangong Lake, which my father used to say, is one of the most beautiful places in the world."
Rahul Gandhi arrived in Leh to begin his two-day visit to the Union Territory on Thursday but his tour was extended till August 25, party sources said.
Rajiv Gandhi took over the charge of the Congress in 1984 following the assassination of his mother and then Prime Minister Indira Gandhi. 
He became India's youngest Prime Minister at the age of 40 when he assumed office in October 1984. 
He served as the Prime Minister of India till December 2, 1989. 
Born on August 20 in 1944, Rajiv Gandhi was assassinated by a Liberation Tigers of Tamil Eelam (LTTE) suicide bomber during an election rally in Sriperumbudur in Tamil Nadu on May 21, 1991. (ANI)
Disclaimer: This story is auto-generated from a syndicated feed of ANI; only the image & headline may have been reworked by News Services Division of World News Network Inc Ltd and Palghar News and Pune News and World News