Mumbai (Maharashtra) [India], October 1 (ANI): Filmmaker Rohit Shetty is currently busy shooting for his next action film 'Singham Again' starring actor Ajay Devgn in the lead role.
On Sunday, early morning, Rohit shared a picture from the film's night shoot.
Taking to Instagram, Rohit shared a picture of a forearm with the text 'Police'' written on it in Hindi.
He captioned the picture, "Night shoots…Singham Again…"


Apart from him, actor Ranveer Singh, who is all set to reprise his character Simmba in 'Singham Again' on Saturday, gave his fans a glimpse of his muscular physique.
Taking to Instagram story, Ranveer shared a picture of himself from 'Singham Again' sets.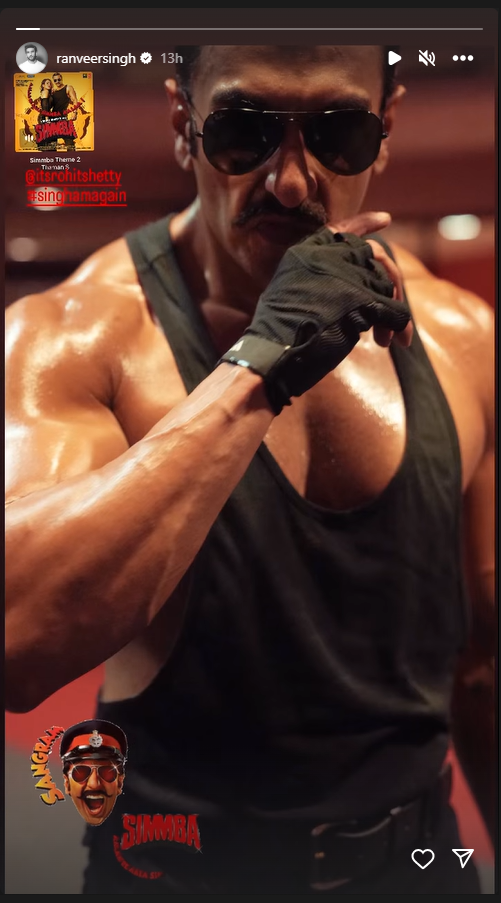 In the picture, Ranveer flaunted his ripped physique while wearing a black vest and matching trousers. He also wore a pair of black shades.
Ranveer added 'Aala Re Aala' from his 'Simmba' in the background.
Helmed by Rohit Shetty 'Singham Again' will also star actor Deepika Padukone in a cop avatar.
'Singham' was released in the year 2011, and starred Kajal Aggarwal and Prakash Raj in the lead roles, followed by 'Singham Returns' in 2014, and both projects were declared box office hits.
The film marks the first on-screen collaboration of Deepika and Ajay.
The film is all set to hit the theatres on Independence Day 2024 and will face big clash with Allu Arjun's 'Pushpa 2'.
Apart from this, Rohit will be soon making his OTT debut with the upcoming series 'Indian Police Force' which stars Sidharth Malhotra, Shilpa Shetty and Vivek Oberoi in the lead roles.
The series will stream on the OTT platform Amazon Prime Video. However, the official release date is still awaited. (ANI)
Disclaimer: This story is auto-generated from a syndicated feed of ANI; only the image & headline may have been reworked by News Services Division of World News Network Inc Ltd and Palghar News and Pune News and World News