Bilaspur (Chhattisgarh) [India], September 30 (ANI): Launching a scathing attack on the Congress government in poll-bound Chattisgarh, Prime Minister Narendra Modi on Saturday said the people have made up their minds to stand up to the "atrocities" perpetrated on them and vote for "change".
"A change is in the air in Chhatisgarh. The excitement that I sense among the people itself demonstrates their desire to vote for change. The people of Chhattisgarh have decided not to tolerate the atrocities perpetrated on them by this Congress government," PM Modi said while addressing a 'Parivartan Maha Sankalp Rally' at Bilaspur on Saturday.
He said the dreams and aspirations of the people could only be fulfilled when there is a change of guard at the hustings.
"It is my guarantee that we will work to fulfill your dreams and aspirations if voted back. Your dreams will be realised only when the BJP returns to power in Chhattisgarh. No matter how much we try to meet the expectations of the people from the Centre, the Congress government here scuttles all our efforts in this direction," PM Modi said.
He added that Chhattisgarh received thousands of crores worth of central funds for infrastructure development here over the last five years.
"Be it for roads, rail, electricity, and various other development projects, we did not leave the state wanting for funds. In public life, the realities seldom stay hidden. The deputy CM (TS Singh Deo) here went on record to say that Delhi does no injustice to the state. The statement ought to have been a matter of happiness for all. However, the Congress can't stomach the praise," PM Modi said.
"The central government approved infrastructure projects worth thousands of crores in Chattisgarh. However, these projects were delayed or stopped altogether," PM Modi said, in a swipe at the ruling party in the state.
Before starting his address, PM Modi chanted 'Bharat Mata ki Jai' at the end of two 'Parivartan Yatras' in the state by the BJP.
Earlier in the day, women clad in traditional attire welcomed PM Modi's convoy during a roadshow. A sizeable crowd of cheering locals lined both sides of the road through which the convoy travelled, raising slogans in support of PM Modi.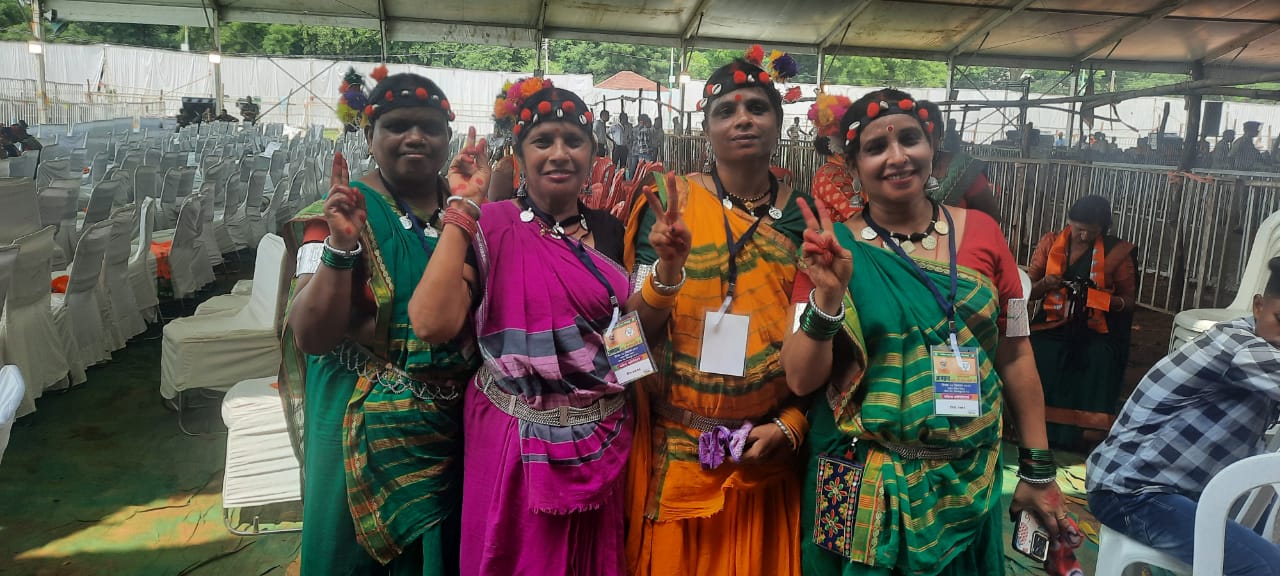 Bilaspur is electorally significant as it accounts for 24 of the 90 assembly seats in the state.
The first Parivartan Yatra began from Dantewada in the southern part of Chhattisgarh on September 12 while the second started from Jashpur in the north on September 15.
The first Parivartan Yatra covered a distance of 1,728 km over 16 days, from Dantewada to Bilaspur, covering 21 districts across three divisions.
More than 45 public meetings, 32 welcome meetings and a roadshow were held during the yatra.
This is PM Modi's third visit to the Congress-ruled state and second visit to the Bilaspur division within a span of 15 days.
The second yatra started with BJP leaders taking blessings of Goddess Khudiyarani. It covered a distance of 1,261 km in 12 days, touching 39 assembly constituencies in 14 districts across two divisions.
More than 39 general meetings and 53 welcome meetings were held during the yatra.
BJP did well in Bilaspur in the 2018 Assembly polls, with the division accounting for 7 of the 15 seats that it won.
Chhattisgarh was carved out as a separate state from Madhya Pradesh under the Prime Ministership of Atal Bihari Vajpayee.
BJP released its first list of candidates for 21 seats in Chhattisgarh in August. The party had lost all these seats in 2018 polls.
Elections in Chhattisgarh, along with four other states, would be held before the end of the year. (ANI)
Disclaimer: This story is auto-generated from a syndicated feed of ANI; only the image & headline may have been reworked by News Services Division of World News Network Inc Ltd and Palghar News and Pune News and World News